Donald Trump, President Elect: Now What?
Well, it's been almost a full week since Donald Trump was elected President of the United States and shook the world right up. No firm decisions have been made yet, but Trump has started to carefully select his senior White House positions (to his terms, not necessarily the best for the job), and the news has reported tidbits of what his first 100 days could look like.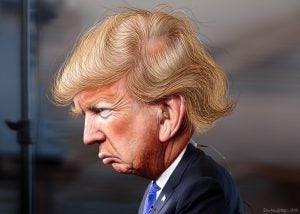 Donald Trump, the president elect, is gearing up for his first 100 days, but what does that mean for us?
Either way, the world is uneasy right now, and Canada is no different. How will a Trump presidency look for us up north?
The Globe and Mail says
 we won't have wait too much longer to find out, and mortgages are likely one of the first spots we're going to see changes. The financial world is as uneasy as the rest of us. Pair that with Canada's mortgage changes already introduced, and the "housing outlook is more uncertain today than it has been since the financial crisis in 2008-09."
Mortgages in Canada: How Are We Impacted?
Trump's plan focuses on stimulating the struggling US economy with an emphasis on new infrastructure and spending accordingly. However, that move would see inflation increase, and as a result, investors are already dumping bonds, which is what dictates the fixed-mortgage market. Will interest rates rise? It seems likely.
What can you do to prepare?
If you're in the middle of your housing search and you haven't secured a 120-day rate hold, then you need to get on that task. Fast. Most banks will hold rates for 120 days. However, the best (and lowest) rates typically are only held for 30 to 60 days, termed the "quick-close mortgages." But even a slightly increased rate held for 120 days could protect you from any wild swings that might happen in the next 100 days.
If you're getting close to the end of your mortgage term, don't wait to start talking about it. Major lenders typically don't send out renewal reminders until roughly 30 days ahead, but you can start talking about renewals much earlier. It's time to see what options are available to you and what the best choice is for you and your family.
If you're in a variable-rate mortgage, then it might be time for you to cash in on the one-time offer to lock-in your variable-rate into a fixed-rate mortgage.
Don't have a mortgage broker? Call 
Sharie Minions
 at 250-730-0239 or email her at sharie@mortgagegrp.com.

Unsure of where you should be going with your housing search? Call the #CondoExperts to discuss your plan of attack at 250-382-6636 or email us at info@thecondogroup.com.

Until next week.

– Kaley Walls
Categories
Archives

Subscribe To This Blog